Doll Changes Meme
by
onegreyelephant
.
Marie
tagged all of us awhile back in
her own answer
to the meme. Sorry it took so long, bb, but I wanted them to reach their first birthday first.x3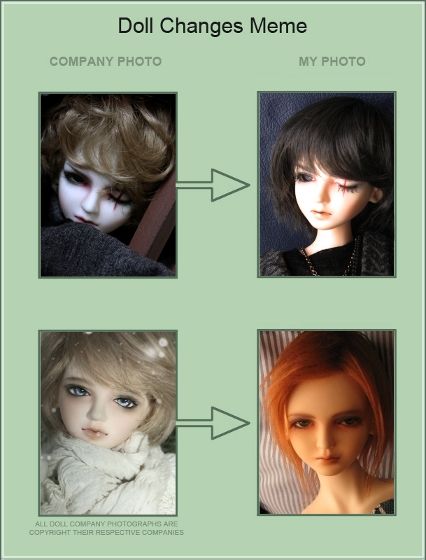 And here's how each of them changed in the past year, as well as some notes on what I still plan to do with them. Click for bigger view!

...O-kay. Rather than making any progress with Joshua's look, it's more like I kept changing it, huh? The truth is I really love D.Maillo's default look. It's the perfect image of my muse's 'niisan'. And after a year of trying to change that, I think I'm ready to give in and
admit my lack of creativity
just copy his company pics. He already has the default face-up and I've ordered a similar wig from taobao. His eyes...are supposed to be the default D.Maillo ones but they're not. I asked Souldoll for them specifically but I suppose they forgot, and I didn't really confirm the difference until I saw other D.Maillos.=( They also told me he's normal skin but now I'm positive that the company pics have him in WS. Oh well.
Oh-- the bald and blind Josh is from when Ceth was at Ricci's for a new face-up. Back then he and Josh shared one wig and one pair of eyes, so for a few weeks he was stuck like that. He's also been on
three different bodies
before his current one, and I very barely talked myself out of buying a fourth.xD;

Now Ceth here, I'm really proud of his transformation.>w< He's loosely based on
Irie Shouichi
from Katekyo Hitman Reborn and ginger hair and green eyes really suit him well.♥ He's gone through two different face-ups (one by
Arvie
and another by
Ricci
), a wig change and a change of eyes. The only stuff I need for him now are his headphones and glasses-- which I've also ordered from taobao so he should be 'complete' pretty soon.
And ready for the census. Sorry, Nix!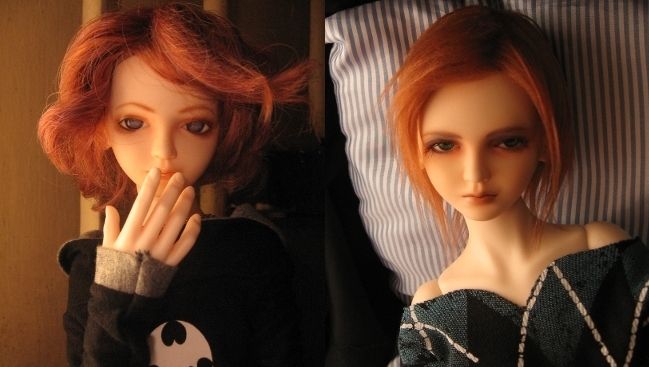 Aaand that's it for my rambling. Now crossing my fingers that LJ would actually let me post this; the site keeps on logging me out.=/
It's Josh & Ceth's first birthday! I wanted to buy ice cream and cake to celebrate, but I'm still quarantined at home because of chickenpox.=/ I couldn't muster up the energy for a photoshoot of them either. Ah, I'm such a bad owner. But here's the